Palm Springs (Golf & Country Club)
The Palm Springs Golf & Country Club, integrating slopes and breath taking view of the beach front have become the hallmark of this 274 hectares resort. A premium five star venue for visitors from around the region and beyond. Palm Spring Golf is a semi-Private golfing venue with club facilities providing warm hospitality and first class services. Palm Spring Golf is just a 30 minutes ferry ride from Singapore to Batam's Nongsapura ferry terminal followed by a two minutes ride. Alternately, it can be reached in 35 minutes from Batam Centre.
Tering Bay Golf & Country Club
This is another course crafted by one of the world's leading golf professionals and celebrities, Greg Norman. Design to breath taking and challengeing par 72 course. Tering Bay is laid out midst rolling hills, lush tropical greenery and pristine lakes. It is located on a site over 167 hectares overlooking the picturesque bay north of Batam. With water has a functional centre piece for many of the holes where you would be tempted to take a risk and "go for it". It would not be easy to clear there water hazards, however, but should you be game enough you would be rewarded.
Another word of caution before you visits this course and subsequently challenges yourself. Beside the water hazards, you should beware of the bunkers and you had better begin sharpening those wedges for action! Tering Bay might appear deceptively easy but it was designed to catch the unwary golfer off guard.
Tamarin Santana
The Tamarin course, located just behind Nongsa Point Marina is the first course in the area designed by Jack Nicklaus. Strategically designed with sculptured bunkers and contoured greens, 9 of the 18 holes of the golden bear course have been completed. Along with this premiere course, the next Jack Nicklaus-designed 9-hole course will offer true championship-level challenges for all golfers.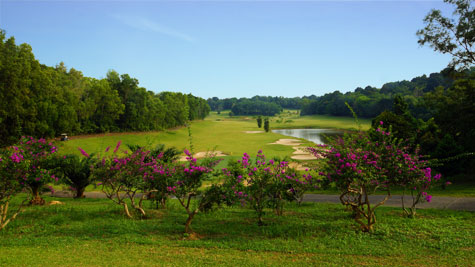 Turi Beach
Nestled in Nongsa Resorts, at the northeast part of Batam Island, and 35 minutes away from Singapore by ferry and 15 minutes from Hang Nadhim Airport. Set a mid 7.7 hectares of beautiful green landscaping in a tranquil tropical village. Turi Beach Resort features Modern-Minimalist accommodation in Tirta and Riani Wing. All 140 deluxe rooms and suites are facing the sea, being well spread over the beach front and hillside.
The newly rejuvenated Riani Wing encompasses a collection of contemporary wooden design timber cottages with private balcony and daybed scattered across a generous parcel of natural landscape that descends down to meet the sea. The suites have a separate bedroom and living environment plus a lavish Jacuzzi for a spa-inspired bathing experience.
Montigo Resorts
Montigo Resorts, Nongsa is located in a private enclave along the coast for Indonesia's Batam Island. The resort is only 30 minutes from Singapore by sea and a stone's throw from 18 hole golf courses, cultural and historical sites, major shopping malls and entertainment areas.
This tropical haven of 88 modern villas and 23 luxury residences boasts exciting activities, rejuvenating spa treatments and creative dining options, and simply breathtaking sunsets over the South China Sea.
Nongsa Village
Built in 1991, Nongsa village is a distinct addition to Batam Island and a smart choice for travelers. From here, guests can enjoy easy access to all that the lively city has to offer. With the city's main attractions such as Tamarin Santana Golf Club, Hang Nadim Airport within close reach, visitors to the hotel will just love its location.
The ambiance of Nongsa Village is reflected in every guestroom. air conditioning, balcony/terrace, desk, telephone, satellite/ cable tv are just some of the facilities that can be found throughout the property. The hotel offers wonderful recreational facilities such as outdoor pool to make your stay truly unforgettable. Superb facilities and an excellent location make the Nongsa Village the perfect base from which to enjoy your stay in Batam Island.
Batam View Beach Resort
Nestling in lush greenery an idyllic hilltop with access to private beach, Batam View Beach Resort is located at Nongsa, Batam Island. Batam view is merely 30 minutes away by ferry from Singapore and 5 minutes from Nongsa Ferry Terminal.
The resort houses 200 units of tastefully designed guestrooms and 18 signatures Minangkabau-style Villas. Each room has a walk out balcony that allows one to come to a close encounter with the picturesque greenery and sea view.
With its Spa, Land and Sea-Sports activities, all within 10 hectares compound, it is one of the best places for those seeking an affordable yet fun and rejuvenating holiday.
Kami melayani pembelian tiket ferry Batam-Singapura, paket tour 3 Negara (Singapura, Malaysia, Thailand), Paket Backpacker, Paket Liburan Keluarga dan Paket Golf, M.I.C.E
HEAD OFFICE:
Palm Regency. Batam centre. Kepulauan Riau – INDONESIA
Hotline :  + 6281267132634 (WA)
batamtravelplanners@gmail.com
SYARAT & KETENTUAN :

Semua harga tercantum pada website ini dapat berubah sewaktu-waktu tanpa pemberitahuan sebelumnya kepada pihak terkait.
METODE PEMBAYARAN :
Semua pemesanan hanya akan dilakukan setelah pembayaran 30% dari harga paket (berlaku untuk low season saja)
Kirim bukti pembayaran melalui Whatsapp dengan staff kami.